Wrap-A-Way Inches, Inc.
1101 Frances St. Johnstown, Pa. 15904
814·269·3989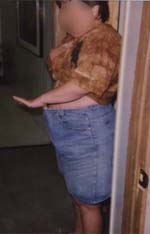 Wrap-A-Way Inches, Inc. is a state of the art, cutting edge, technologically advanced salon developed to enhance your body's appearance and overall well- being. Our staff provides personalized care to help you achieve your goals and optimum results. Our affordable products and services, that we provide, help you look and feel better. We offer toning, body wraps, face taping (mini facelift), and tanning.
Our body wraps consist of a special mineral solution which will firm and slenderize your body. Along with disappearing inches, you may find additional benefits such as tightening of loose, flabby or sagging skin, elimination of problem areas, and cellulite, as well as feeling revitalized.
Whether preparing for the summer bikini season, or simply because you want to improve your shape & or drop dress sizes, Wrap-A-Way Inches, Inc. can get you there.
While you will see results with the first wrap (we guarantee it!), we recommend continuing the wraps one to two times per week until you reach your desired results. You can then maintain with three to four wraps per year.
You will see and feel results after only one body wrap! We guarantee that you will lose at least 6 to 30 inches on your initial body wrap.
click here to refer this site to a friend
Alum Bank, Pa.

or

Johnstown, Pa.
814-839-2100
814-269-3989
Treat yourself to a slenderizing, revitalizing experience.
www.suddenlyslender.com